Creating Space For Health: Tips for An Inspiring Office Space
A few weeks ago, I talked about how spending time at the beach makes me crave simplicity, giving me the desire to strip away unnecessary distractions in my every day life. Sometimes, we have to intentionally create space so that we can make healthy choices. For instance, when the space I spend my time in is organized and clean, I am less stressed and better able to focus and be productive (all of which are qualities in my vision statement).
After assessing a few areas in my life I decided to begin with our home. I wanted a quick and important win so my first project was my office. I spend quite a bit of time in here working and in order for me to be calm and my thoughts to be clear, my space has to be organized and inspiring as well. I'm what I like to call a Productive Procrastinator. If I need to work on a project but the place is a mess, I "have to" clean and organize everything from the drawers to my pens before I get started. And usually by the time that gets done, I've used all my time straightening up and have little to no time left for work. It's a problem. An annoying one.
I've spent a year trying to figure out how to organize and decorate this tiny space. I don't have an eye for decor. I know what I like but creating it in my own space is not a strength of mine. You should see all the holes we've put in our walls due to my indecisiveness. There will be a lot of spackle involved in our next move…
Thankfully I live in a town full of creative people and one of my dear college friends and owner of Graced Interiors, Morgan Thompson, was the first person that came to mind when I thought about asking for some professional help. She is wonderful at transforming spaces and was more than willing to work with items that I already had in order for us to stay on budget.
After talking through a few ideas, Morgan came over to look at my office. I won't lie.. I wasn't planning on her coming to look at it and was slightly embarrassed at how much of a mess it was. But alas, this was my reality and if nothing else, it made for some pretty amazing before pictures.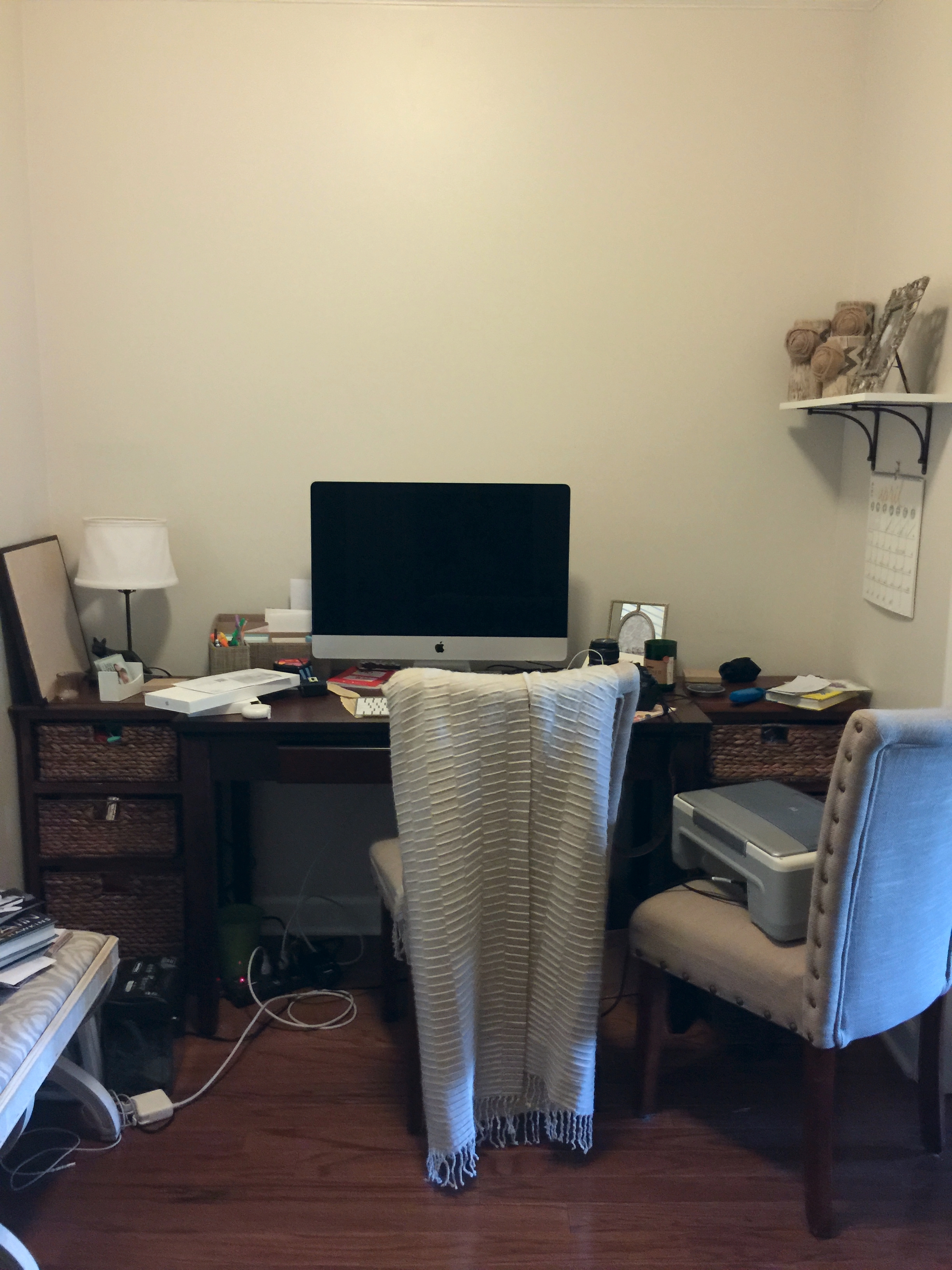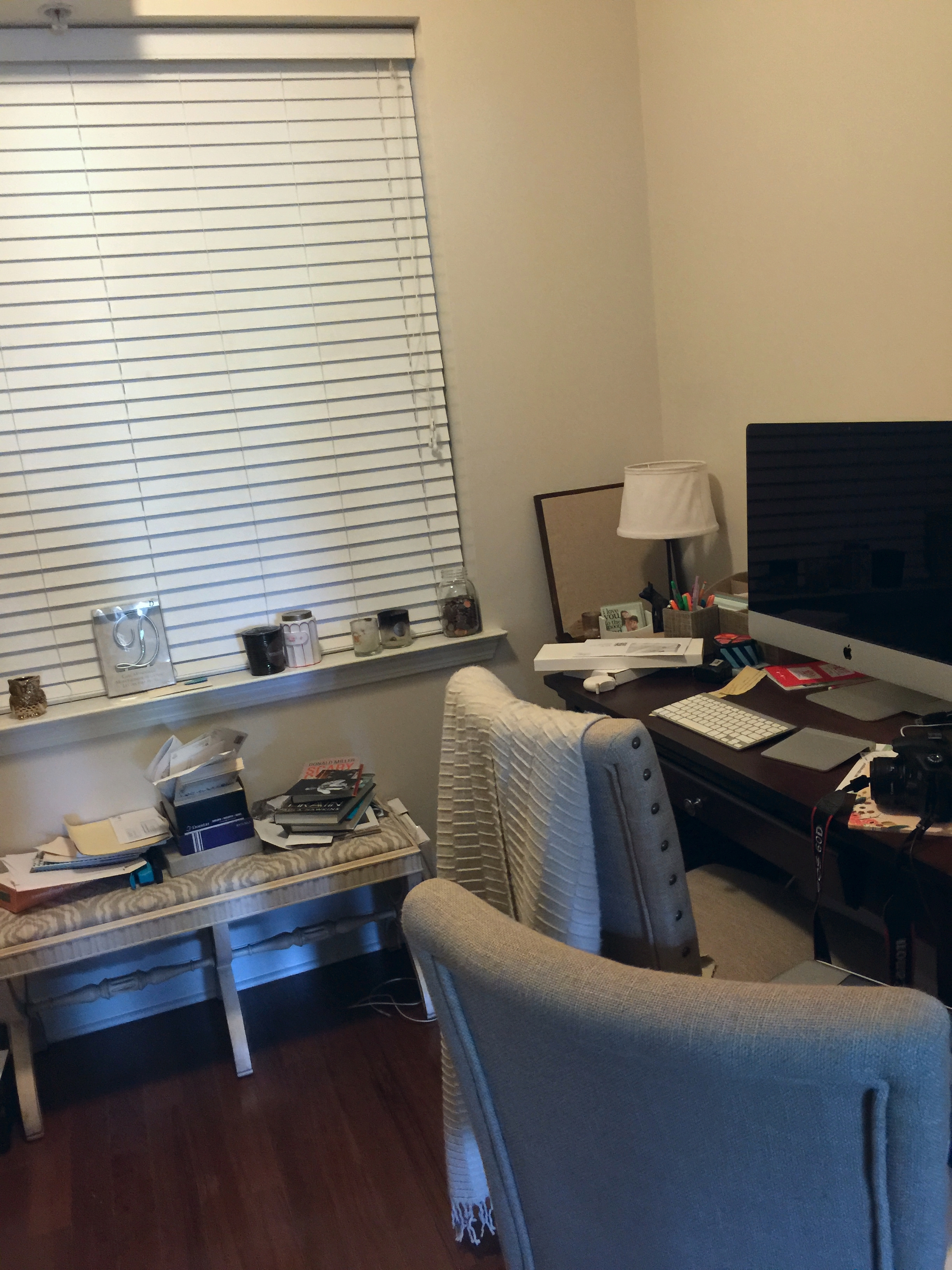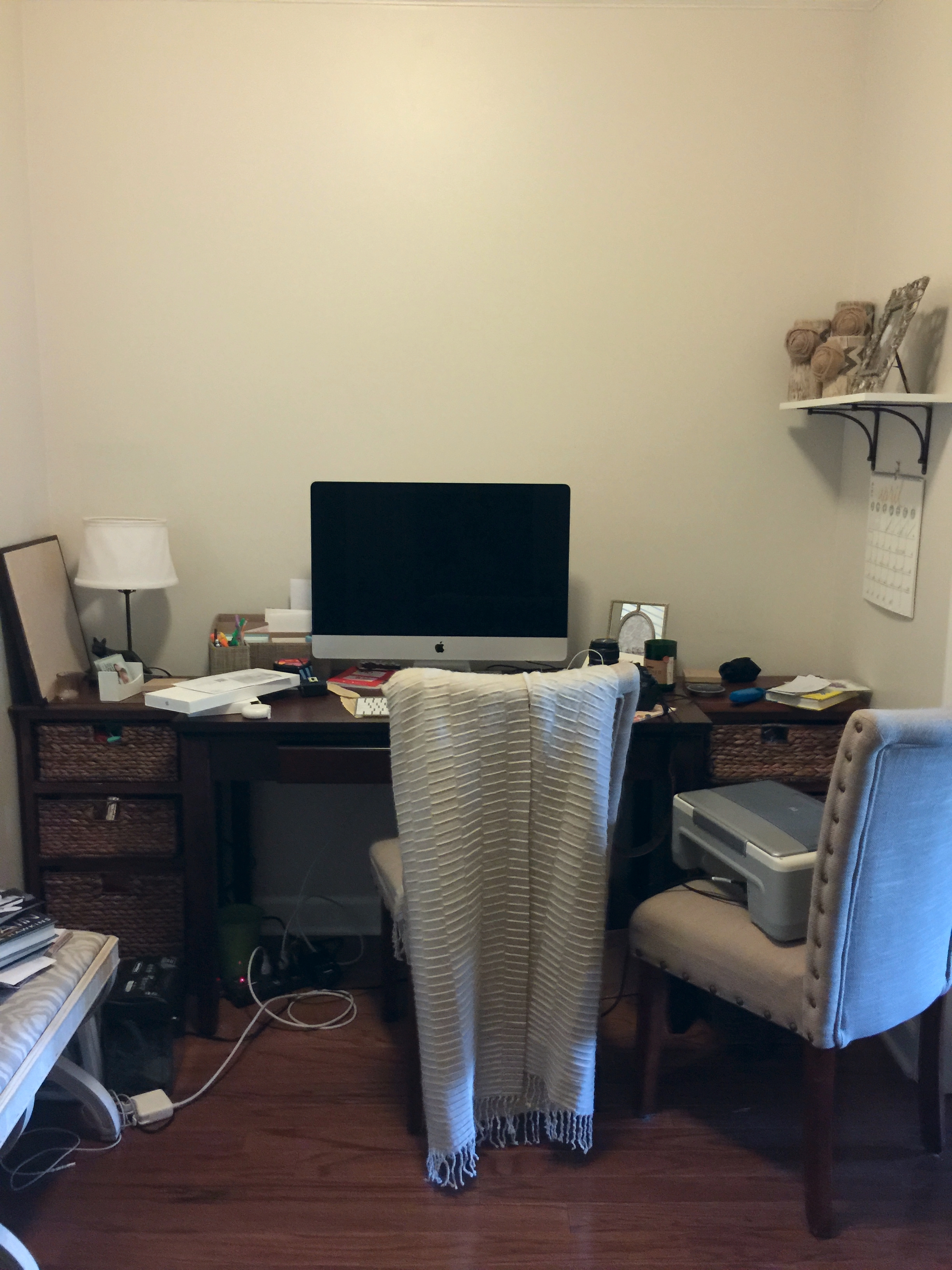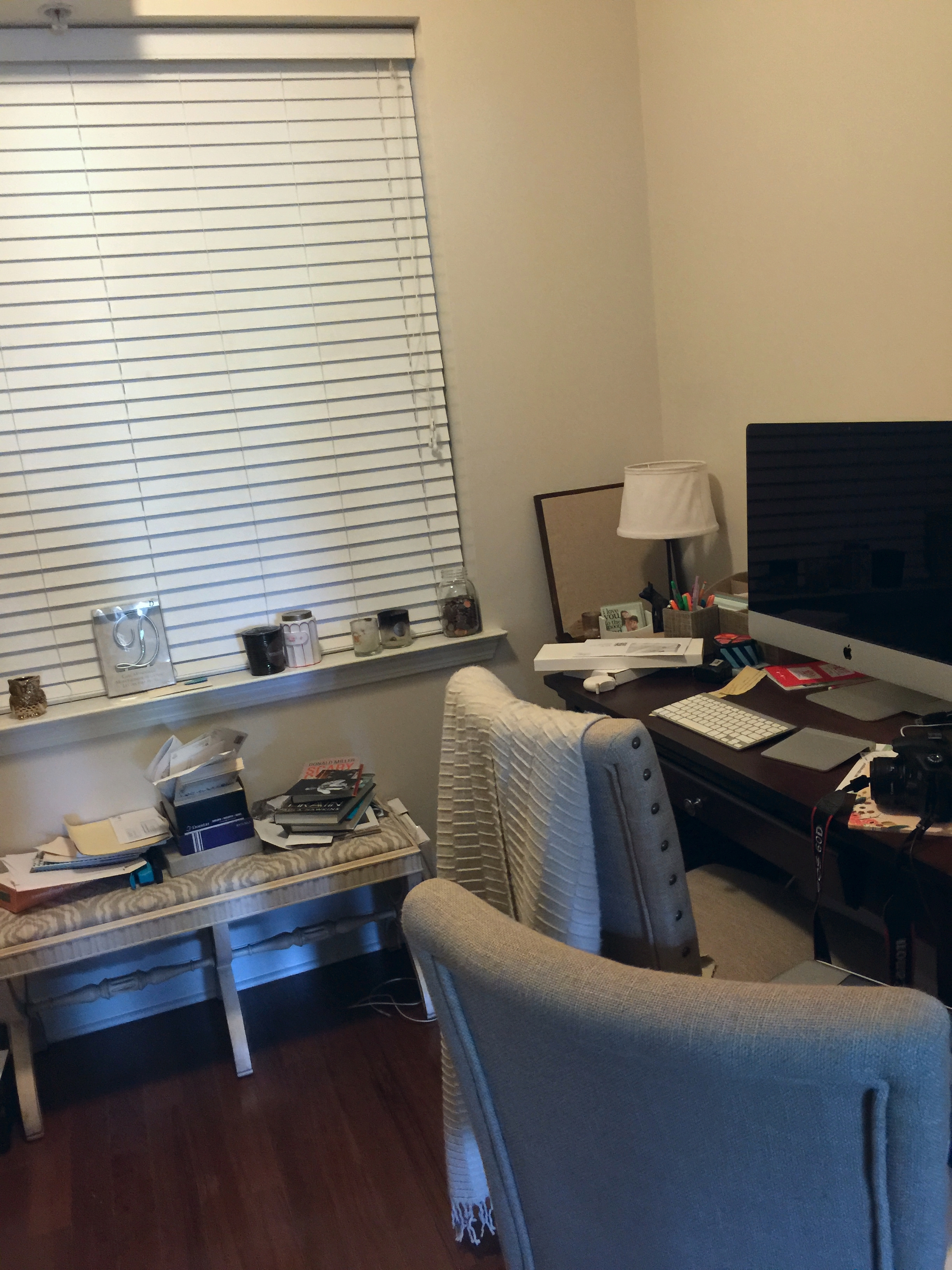 I asked Morgan to share a few tips on how to best declutter, organize, and create a calm/inspiring work space, in hopes that they would be of help to you as well!
1. Don't Be Afraid to PURGE.
Pack rats and small spaces do NOT mix well! Buy an external hard drive, get a scanner, join the 21st century and get rid of all the paper piles weighing you and your space down. You know the drill, if you haven't used it in 6 months to a year then just Let. It. Go.
2. Get Comfy.
Most of us spend more time working each day than we do sleeping (depressing, right?). So why should your work space feel any less comfortable than your bedroom? Ok maybe a bed in your office wouldn't be so great for productivity, but more casual furniture items - a couch, over sized chair, or project table with bar stools - are definitely ideas to consider.
3. Use the High/Low Method.
Invest a good chunk of your budget into the items you will be sitting writing, and working on the MOST. Wall decor, desktop accessories, etc. can all be bought on the cheaper side, but large furniture items need to be comfortable and of good quality.
4. Natural Light is Your Work BFF.
Cubicles with artificial lighting should be illegal in my opinion. But if this is you, do what you can to add some ambiance with a fun lamp, a plant, or LED candle. If you are lucky enough to have a window then capitalize on that natural light by facing your desk towards it and raising up the blinds.
5. Surround Yourself with Inspiration.
Find local artists or go to Etsy.com and have your favorite verse or phrase made into a print to hang on your wall. Anytime I see a picture or article that inspires me, I immediately tack it up in my office. I get bored easily, so my walls and decor are ever-changing. But in a space where creativity and new ideas are key, I think this is a good thing!
If you're like me and are in need of assistance, call Morgan and ask for her help! I promise you won't regret it! Now onto my next project: my closet 😫🙈. Wish me luck!
What is one area of your life or home that could use a little decluttering?